Meet Panchita Yoc, Spanish Instructor
SHARING EXPERIENCES
I work in the CASAS department as a Spanish as a second language instructor for young university students from the United States who come to complete language credits. I also work with other people who come to Guatemala and Central America for voluntary service. My work is meaningful not only because it is a service to the Kingdom of God, but I also have the opportunity to equip students with Spanish language skills, teach them about Guatemalan culture and exchange life stories with each of them.
I started my work at SEMILLA around 1990 when Elena Yoder established the CASAS program. She invited members of the Guatemalan Mennonite community to work as Spanish language instructors. I accepted the invitation, and I don't regret it!
FORMING FRIENDSHIPS
I don't think I have a favorite part of my job because I enjoy all of it. I love what I do! It is a pleasure for me to teach and to share about Guatemala. I am also able to learn alongside my students. In the end, I don't see them as students, really, but as friends sharing life experiences.
At SEMILLA, our work is different because we support our students in their journey to faithfully follow Jesus Christ. We teach them to show God's justice and peace to the world.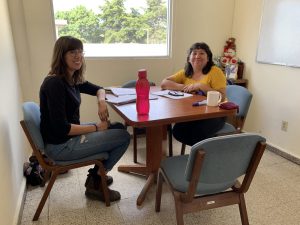 BROADENING PERSPECTIVES
Every time a student finishes their time learning with us, they return to their country with a broader perspective. They have become more aware of the way they think and see the world around them.